THIS YEAR WE WILL BE HOSTING  AN ONLINE AUCTION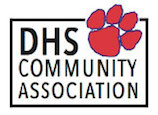 BIDDING STARTS ON WEDNESDAY APRIL 10TH
AND CLOSES AT NOON ON WEDNESDAY APRIL 24th
AUCTION IS CLOSED – THANK YOU ALL FOR PLAYING!
Here's How You Play:
1. Email Pam Tallmadge, DHS Community Association Treasurer: pam@tallmadgega.us
2. Tell Pam what prize you are bidding on and your bid $
3. Pam will assign you a bidder number
4. You can watch the results being uploaded at the end of each day on the website
5. Winners will be notified the afternoon of the 24TH
a. Winners can pay either by check: Made out to the DHS Community Association
b. Or You can pay via the donate button on the website
The DHS Community Association "Wildcat Fund" is a 501(c)(3) tax exempt charitable organization
Good Day Wildcats.   Thank you for participating on our online auction.
Last year, in the final minutes, it got crazy to keep up with the constant last minute bidding.
This year there are even more of you who have placed bids, so we have decided to add another procedure to make things fair in the final countdown.
Bids Close at 12 noon tomorrow April 24th
• Starting at 11:55 – I will take emails with your final number – a so called sealed bid – and that will be your final number.
• No texting me with bids – emails only – that way I have a trail and documentation on the so called "sealed bids".
AUCTION PRIZES
Guaranteed Designated Parking Space for 2019-2020 School Year
Value: $Priceless  Minimum bid: $100  Minimum bid increase: $50
Bidder Tracking – Parking Space Bid
BIDDER #           BID $
************************************************************
Guaranteed 10 Reserved Seats for 2019 Graduation (FYI: There will be two of these awarded to the two highest bidders)
Value: $Priceless  Minimum bid: $100  Minimum bid increase: $50
Bidder Tracking – Dunwoody HS Graduation Seats Bid
BIDDER #           BID $
************************************************************
Student of the Day 2019: A special day for your student includes: breakfast & lunch catered on site with 7 of their friends, car detailed while at school, chauffeured from class to class via golf cart, Mr. Fortenberry will take notes in class for your student, & more surprises.
Value: $Priceless  Minimum bid: $100  Minimum bid increase: $50
Bidder Tracking – Student for a Day Bid
BIDDER #           BID $
************************************************************