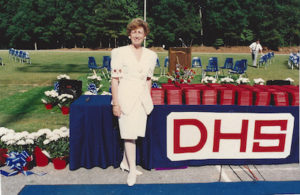 The Dunwoody High School Hall of Fame was reestablished in 2006. Dunwoody has a proud academic and athletic heritage; we are happy to be able to honor that legacy. The Hall of Fame  honors coaches, counselors, teachers, and bestows an award in the name of one of Dunwoody's most beloved principals, the Dr. Springer Award.

The DHS Hall of Fame Inductee Class is selected every other calendar year.
Qualifications:
Graduates must be out of school at least five years
Nominees are submitted to a Hall of Fame selection panel
The panel members are selected by the Wildcat Fund Board
Nominees should have the following characteristics
• Dunwoody High School connection either as a student, teacher, coach, administrator, or counselor/advisor
• Successful in their role at Dunwoody High School, as well as their community, college, and work place
• Strong role model
The panel takes into consideration many factors in the selection process. The Inductee Class typically consists of six* Hall of Fame Inductees:
4 alumni
1 coach
1 Dr. Springer Award and 1 Mary Frazier Award
*However, depending on the stack of nominations presented to the selection panel, those numbers may be adjusted.
Once selected, the Hall of Fame Class of Inductees will be asked to participate in the following festivities:
Dunwoody 4th of July parade
Hall of Fame dinner in their honor
---
Dr. Springer Award
Ryan Seacrest                                                     Class of 1993
Jeff Arnold                                                          Class of 1988
Dr. Kim Workowski                                           Class of 1979
Sally Quillian                                                      Class of 1978
Steve Fortenberry                                              Class of 1984
Dr. Bryce Gartland                                             Class of 1993