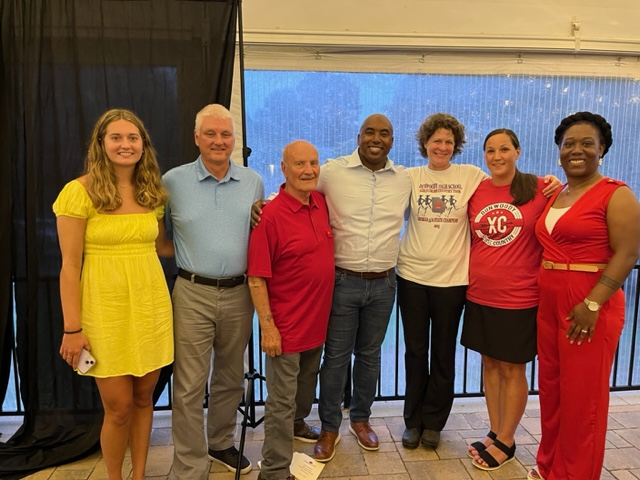 Paige McKnight, Todd Thames, Jim Redovian, Jerry King, Jeanne Hendrickson, Daniell Henrickson (Coach Hendrickson's wife), and La Kerah Barr Ponder
CONGRATULATIONS CLASS OF 2022 HALL OF FAME
Coach Hendrickson will be missed. His wife Danielle shared his favorite quote that he lived out his life by: Do all the good you can, by all the means you can, in all the ways you can, in all the places you can, at all the times you can, to all the people you can, as long as ever you can. -John Wesley
***
The Dunwoody High School Hall of Fame was reestablished in 2006. Dunwoody has a proud academic and athletic heritage; we are happy to be able to honor that legacy. The Hall of Fame honors coaches, counselors, teachers, and bestows awards in the names of one Dunwoody's most beloved principals, Dr. Jenny Springer, and counselors, Ms. Mary Frazier. The Hall of Fame Committee also added the Lifetime Achievement Award.
The DHS Hall of Fame Inductee Class is selected every other calendar year.
Qualifications:
Graduates must be out of school at least five years
Nominees are submitted to a Hall of Fame selection panel
The panel members are selected by the Wildcat Fund Board
Nominees should have the following characteristics
• Dunwoody High School connection either as a student, teacher, coach, administrator, or counselor/advisor
• Successful in their role at Dunwoody High School, as well as their community, college, and workplace
• Strong role model
The panel takes into consideration many factors in the selection process. The Inductee Class typically consists of seven* Hall of Fame Inductees:
4 to 5 alumni
1 to 2 coaches
1 Dr. Springer Award & 1 Mary Frazier Award & 1 Lifetime Achievement Award
*However, depending on the stack of nominations presented to the selection panel, those numbers may be adjusted.
Once selected, the Hall of Fame Class of Inductees will be asked to participate in the following festivities:
Dunwoody 4th of July parade
Hall of Fame celebration in their honor
---
Hall Of Fame List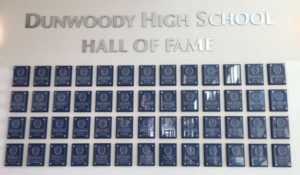 Jeff Abbott Baseball
Trent Hudson Baseball
Jimmy Redovian Baseball
Danny Rueckel Baseball
Chris Epps Baseball
Mr. Hudson Randall Baseball
Mr. Willie Stroud Baseball
J.D. Heuer Basketball
Stacy Maddox Basketball
Ray Harrison Basketball
Anjuan Wilderness Basketball
Roger Gay Coach
Roy Sparks Coach
Jim Edgar Coach
Will Jackson Coach
David Kelly Coach
Ed Winterstein Coach
Tom Bass Coach
Scott Bracco Coach
Rick Townsend Coach
Coach Celeste Boemker Coach
Coach Cassandra Watkins Coach
Jon Holland Cross Country
Ryan Seacrest Dr. Springer Award
Jeff Arnold Dr. Springer Award
Dr. Kim Workowski Dr. Springer Award
Sally Quillian Dr. Springer Award
Steve Fortenberry Dr. Springer Award
Dr. Bryce Gartland Dr. Springer Award
Ms. Vicki Brinson Williams Dr. Springer Award
Harris Barton Football
Idres Bashir Football
Jeff Brown Football
Ivory Covington – Football
Brian Jager Football
Jay Martin Football
Billy Ray Football
Charles London Football
Travis Stroud Football
Orantes Grant Football
Rod Perrymond Football
Treavor Scales Football
Laura Griffin Williams Golf
Joci Newman Gymnastics
Tom Statham Mary Frazier Award
Steve Goldin Mary Frazier Award
Pam Haire Tallmadge Mary Frazier Award
Jordy Broder Soccer
Jeff Miller Soccer
Kerry Powell Soccer
Danielle Dion Soccer
Thomas Najjar Soccer
Adrienne Fortmann Softball
Leslie Browdy Swimming
Tony Buff Swimming
Doug Gjertsen Swimming
Bart Graham Swimming
Tonya Hancock Swimming
David Jacobson Swimming
Jerri Hubsch Swimming
Natanya Harper Brooks Swimming
Carlton Bruner Swimming
Cathy McCullen Swimming
Scott Cotton Tennis
Tommy Marsh Tennis
Jimmy Awbrey Track
Steve Boecler Track
Kerri Cascone Track, Basketball
Antoinetta McKay Track
Nicole Fletcher Track
Ms. Eva Gordon Track
Dr. Laney Griffeth Track
Josh Feldman Wrestling
John Hurst Wrestling
Dr. Andrew Allen Wrestling
Mr. Chauncey Arceneaux DHS Lifetime Achievement Award
Mary Fraizier AWARD RECOGNITION
Dr. Jennie Springer AWARD RECOGNITION